2021年9月30日,全球最大规模的LED显示屏智造基地,在洲明科技大亚湾科技园落成。
作为一场LED行业及中国制造业盛事,环球网、腾讯、网易、搜狐、北京晚报、中国证券报、证券时报、证券日报、上海证券报等近百家中英文媒体、门户网站及LED行业媒体对基地落成进行了专题报道。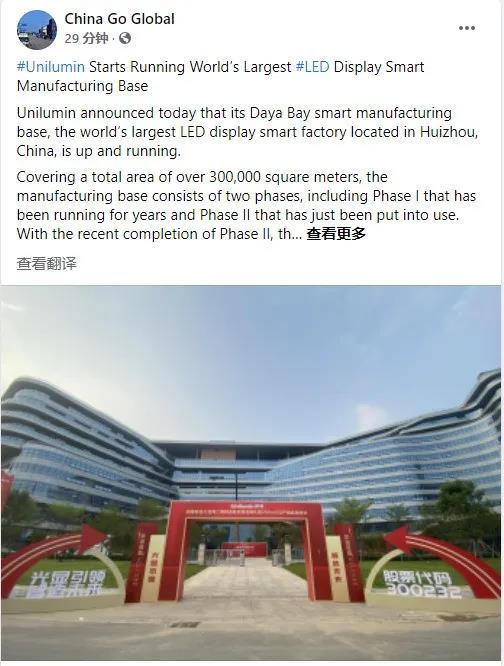 ▲英文报道(选自Facebook平台)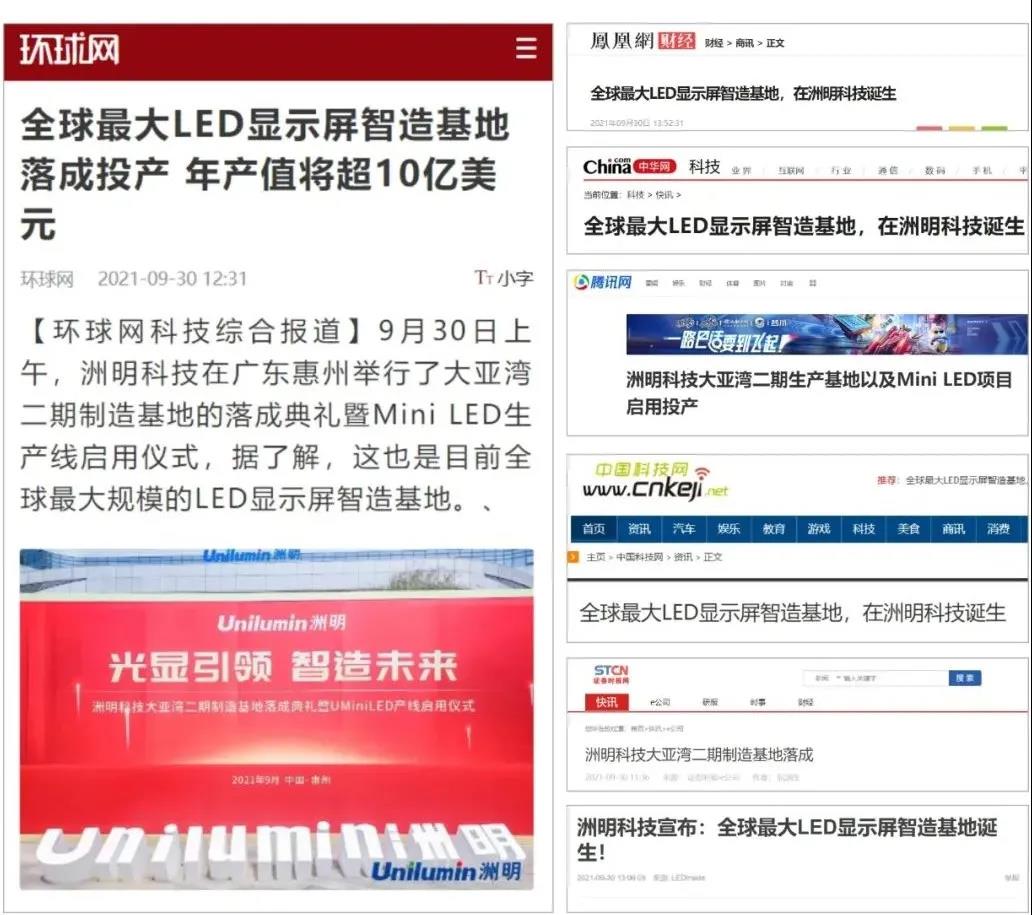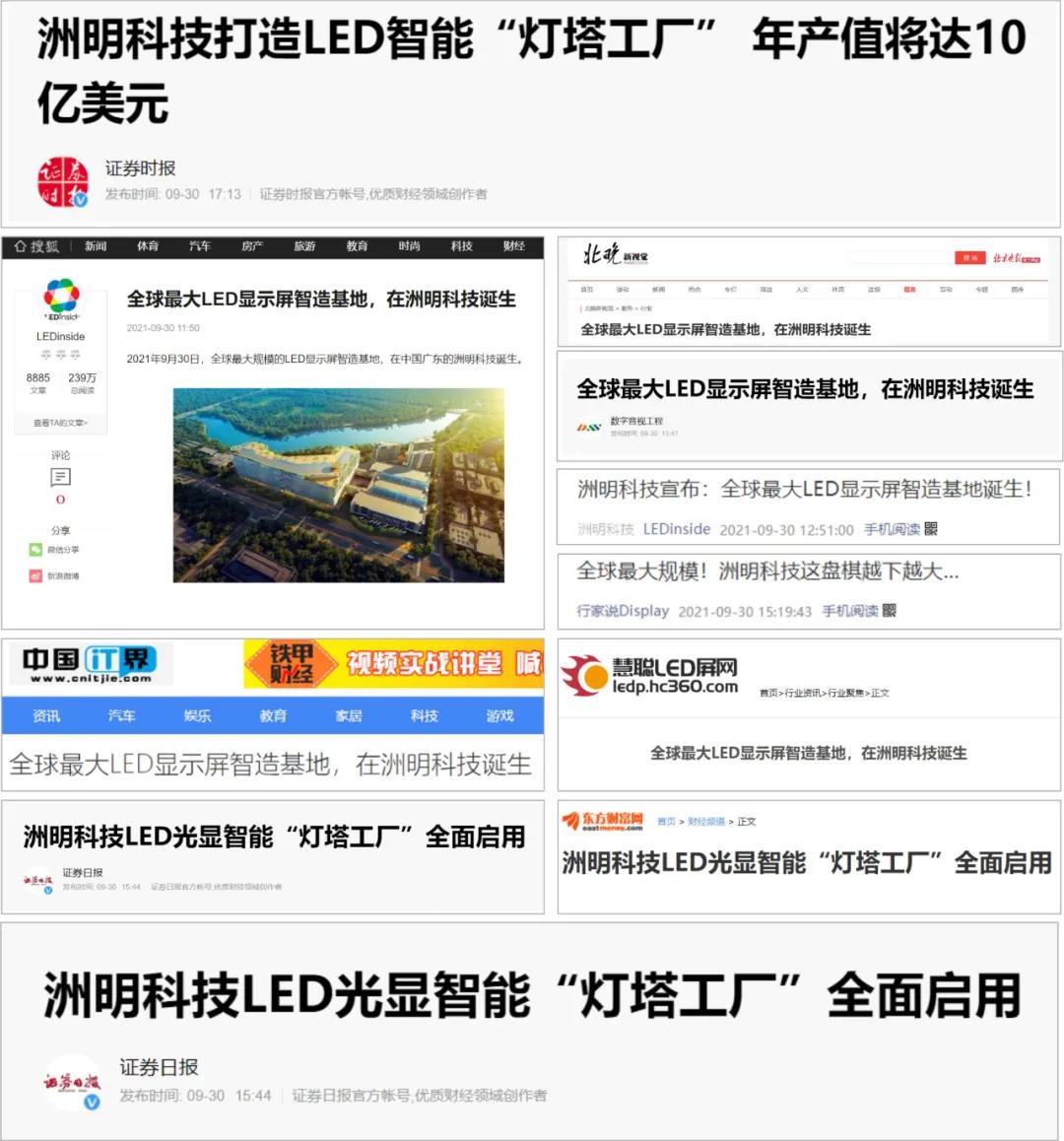 ▲媒体报道节选
洲明科技是2004年成立于深圳的一家高科技企业,并于2011年顺利上市。洲明科技为客户提供智能化的LED显示屏以及LED照明设备,并称"光显解决方案",涉及七大板块:行业指控中心,智慧城市"云+端",体育场馆及赛事,新商业显示,智慧会议显示终端,专业照明应用,城市景观多媒体照明。公司的愿景是专注科技与设计,成为光显行业的全球引领者。
▲全球最大LED显示屏智造基地俯瞰
洲明科技这块位于惠州大亚湾的制造基地,包括已经使用的一期厂房和此次启用的二期厂房,总面积三十多万平方米,年产值将达到10亿美元以上。未来,这里将向全世界源源不断地提供高清LED大屏,同时,这里也将成为LED光显行业最具智能化的"灯塔工厂"。
令业界倍加关注的是,洲明最新的Mini LED生产线也在此次启用投产。洲明科技早在2019年就领先业界,实现了间距P0.9的Mini LED产品的批量出货,今年P0.9、P0.7产品订单更是实现同比较大的增幅,并且供不应求。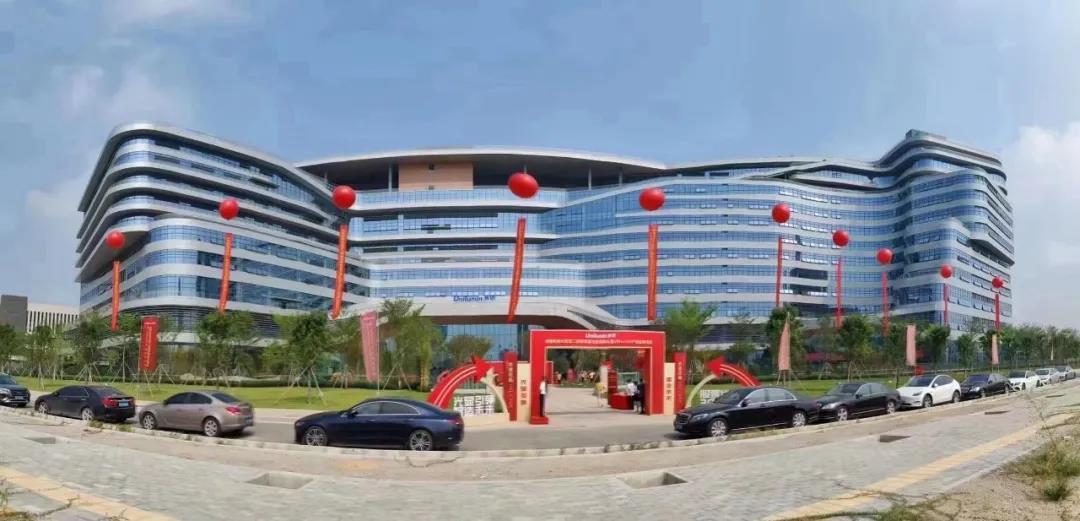 ▲大亚湾二期生产基地
此次大亚湾二期生产基地以及Mini LED项目的启用投产,将使洲明科技的整体产能实现大幅跃升,从根本上解决LED行业"产能不足"的痛点,迅速响应客户需求,及时足量供货,全面提升洲明科技的市场占有率,进一步夯实洲明科技在全球市场的领先地位。
9月30日上午,洲明科技在广东惠州隆重举行了大亚湾二期制造基地的落成典礼暨Mini LED生产线启用仪式。
当天上午,惠州市工信局副局长扈伟,中国照明电器协会执行理事长刘升平,国家半导体照明工程研发及产业联盟副理事长窦林平,中国光学光电子行业协会发光二极管显示应用分会秘书长洪震,惠州仲恺高新区LED品牌发展促进会秘书长成森继,洲明科技董事长兼总裁林洺锋,以及部分行业专家、供应商代表、经销商代表、生态合作伙伴以及新闻媒体朋友出席了落成典礼(由于疫情原因,一些专家与代表未能到场)。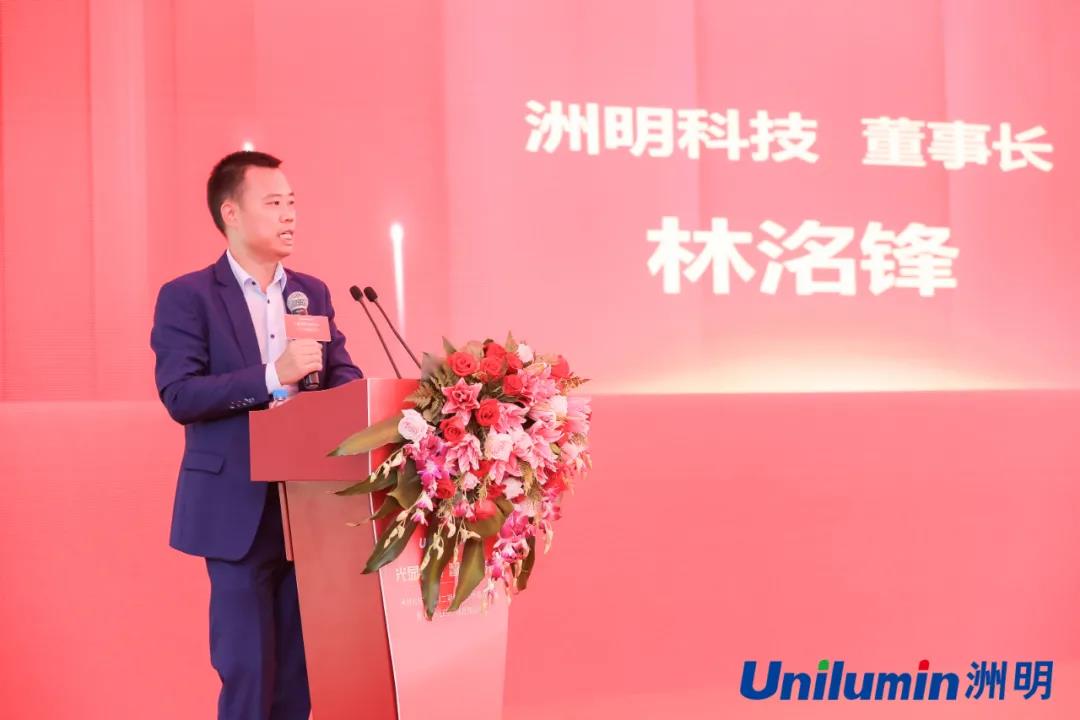 ▲林洺锋董事长致辞
洲明科技董事长林洺锋在致辞中表示,洲明科技始终以客户为中心,不断推动行业的研发创新和制造创新,不断提升生产制造的数字化、智能化和自动化程度。洲明的大亚湾二期智造基地,自2019年2月启动建设以来,已陆续投入资金超过10亿元,通过全面引入人机智能交互、工业机器人、智能物流管理等技术和装备,将逐渐实现"数字化制造"和"工业4.0"升级。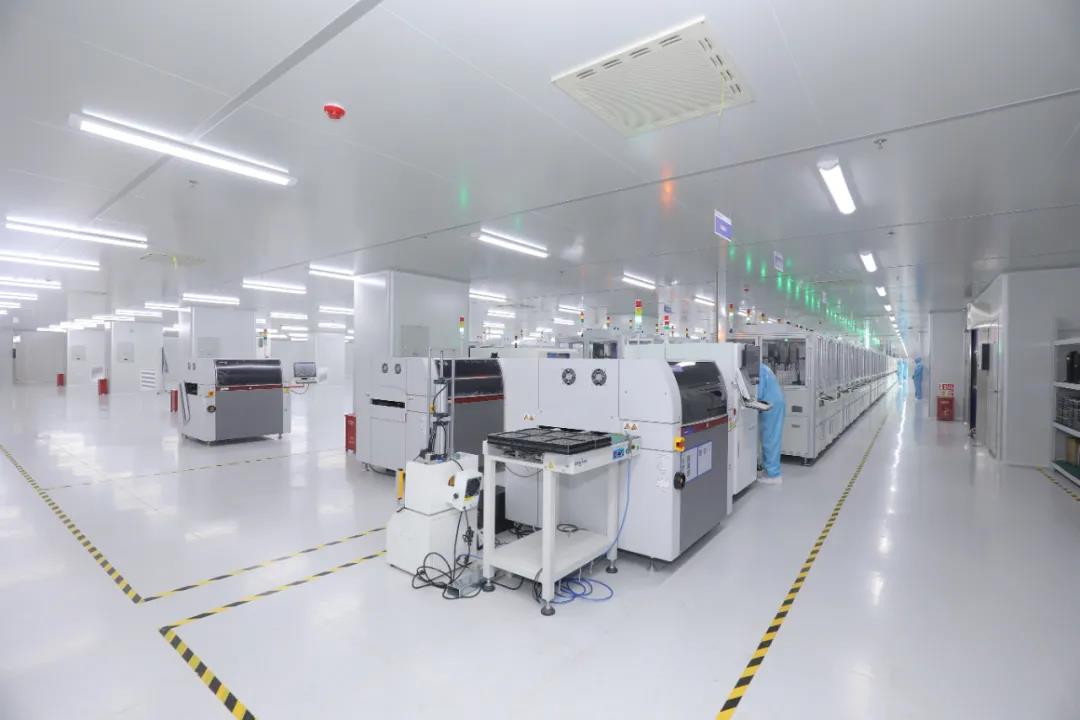 ▲智造车间一隅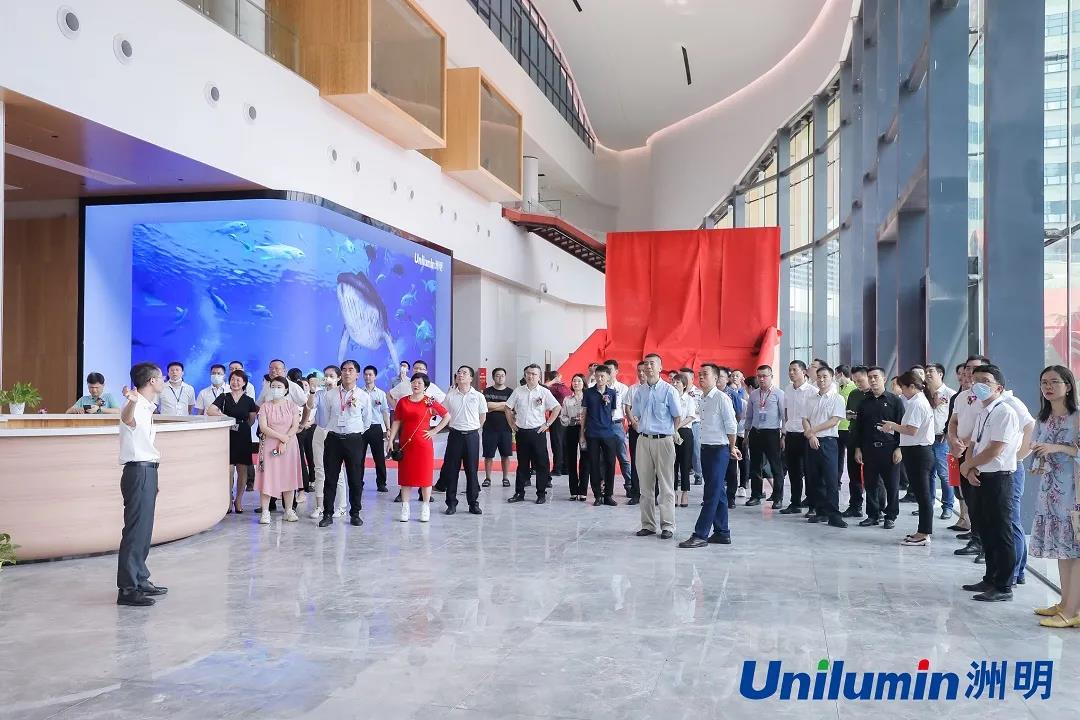 ▲嘉宾参观基地
跬步千里,厚积薄发。大亚湾二期制造基地以及Mini LED生产线的全面投产,是LED行业的一次制造技术飞跃,以世界领先的制造工艺和设备,保证产品质量与生产效率,展现了全球顶尖制造工厂的实力,让洲明成为全球Mini LED显示屏创新制造的"航母基地"。
洲明科技将以大亚湾智造基地为牵引,继续在成本上和效率上保持行业领先,秉持成为LED光显行业引领者的愿景,推动LED行业高质量发展,为世界带来无限光彩!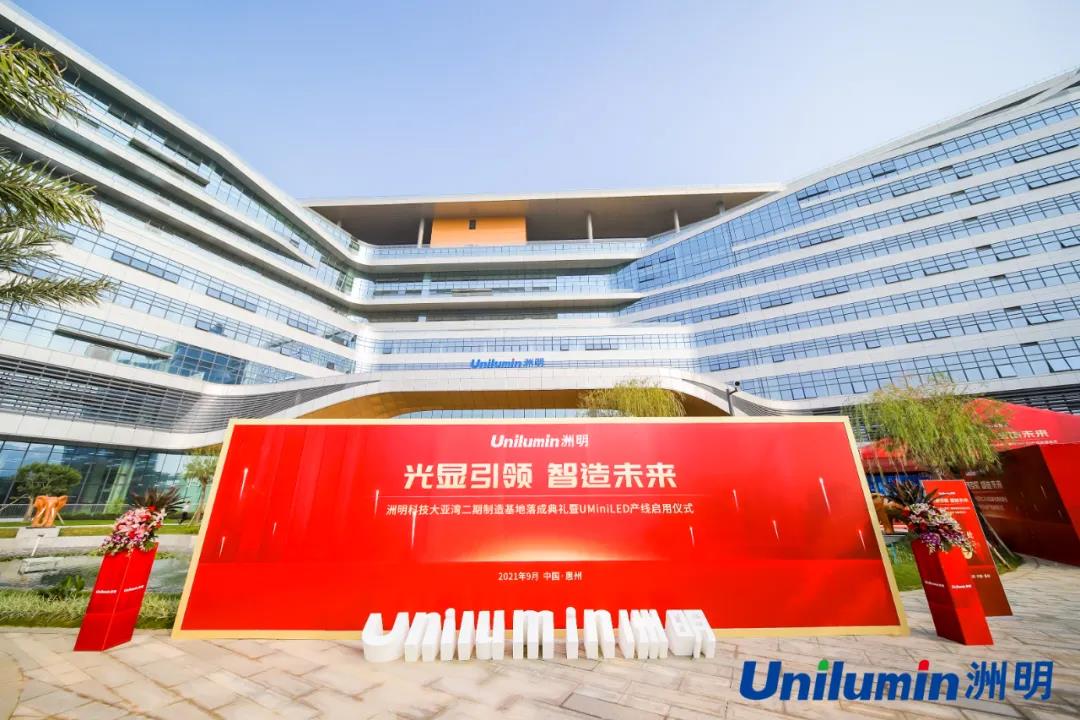 Unilumin Starts Running the World's Largest LED Display Smart Manufacturing Base
September 30, 2021 - Unilumin announced that its Daya Bay smart manufacturing base, the world's largest LED display smart factory located in Guangdong, China, is up and running.
As a high-tech enterprise established in Shenzhen in 2004 and went public in 2011,Unilumin provides customers with intelligent LED displays and LED lighting products and solutions. These products and solutions are composed of sevensegments, including industry command centers, intelligent city "cloud +terminal", sports venues and events, new commercial displays, intelligent conference display terminals, professional lighting applications, and urban landscape multimedia lighting. The vision of Unilumin is focusing on technology and design, and growing into a global leader in the lighting and display industry.
Covering a total area of over 300,000 square meters, the manufacturing base consists of two phases, including Phase I that has been running for years and Phase II that has just been put into use. With the recent completion of Phase II, the whole manufacturing base has become a "beacon factory" in LED industry, with the ability to provide LED products and services that are expected to value more than $1 billion annually at full capacity.
The official operation of the latest Mini LED Production Line of Unilumin has further drawn extra attention of the industry. Leading the industry as early as 2019, Unilumin has realized batch delivery of P0.9 Mini LED. This year P0.9 and P0.7 product orders have grown drastically on a year-on-year basis, and the demands far exceed the production because of the rapid growth.
With the official operation of the Daya Bay Phase II Manufacturing Base and Mini LED Production Line, Unilumin has achieved a substantial increase in overall capacity. This will fundamentally solve the pain point of "insufficient capacity" in the LED industry, quickly respond to customer demand, ensure timely and sufficient supply, comprehensively improve the market share of Unilumin, and further secure its leading position in the global market.
On the morning of September 30, the completion ceremony of the Daya Bay Phase II Manufacturing Base in Huizhou and the launch ceremony of Mini LED production line were held in Huizhou, Guangdong Province. On the morning, attending the completion ceremony were such officials as Deputy Director Hu Wei of Huizhou Industry and Information Technology Bureau, President Liu Shengping of China Association of Lighting Industry, Deputy President Dou Linping of China Soled State Lighting Alliance, Secretary General Hong Zhen of LED Display Applications Branch, China Optics and Optoelectronics Manufactures Association,Secretary General Cheng Senji of LED Brand Development Promotion Committee of Huizhou Zhongkai High-tech Zone. Chairman & President Lin Mingfeng of Unilumin as well as selected industry experts, supplier representatives and distributor representatives, ecological partners and media reporters also joined the completion ceremony.
Chairman Lin Mingfeng of Unilumin pointed out in his speech that Unilumin always puts customers first, continuously advances R&D innovation and manufacturing innovation of the industry, and constantly improves the level of digitization,intelligence and automation of manufacturing. With construction started in February 2019, the Daya Bay Phase II Manufacturing Base has been invested withover $150 million. Through the comprehensive introduction of human-machine intelligent interaction, industrial robots, intelligent logistics management technologies and equipment, the upgrading from "digitalized manufacturing" and"Industry 4.0" has been successfully implemented.
A longjourney is covered by taking one step at a time; an abrupt rise is based on its accumulated strength. The official operation of the Daya Bay Phase II Manufacturing Base and Mini LED Production Line are a leap of manufacturing technology in the LED industry. World leading manufacturing processes and equipment ensure product quality and production efficiency, show the strength of the world's top manufacturing factory, and make Unilumin a global "aircraft carrier base" of Mini LED display innovative manufacturing.
Led by the Daya Bay Manufacturing Base, Unilumin will continue to lead the industry in cost and efficiency,uphold the vision of becoming the leader in the LED optical display industry,promote the high-quality development of the LED industry, and bring infinite brightness to the world.